Beauty & Self
Books & Music
Career
Computers
Education
Family
Food & Wine
Health & Fitness
Hobbies & Crafts
Home & Garden
Money
News & Politics
Relationships
Religion & Spirituality
Sports
Travel & Culture
TV & Movies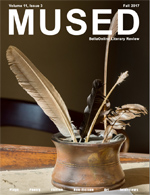 Autumn is a season for counting our blessings. For realizing just how much we have in life where so many others are without. It can often be easy to take things for granted. Things which millions of people desperately dream of having. By pausing for a moment, and looking around with mindfulness, we can find a new center. Begin with fresh energy.

Enjoy the Mused Autumn Equinox 2017 Issue



Winter Romance Deals in Door County
Senior Travel - Hazel M. Freeman, Editor

If the thought of stealing away for a romantic winter getaway sounds like heaven, check out the special deals Door County, Wisconsin offers with their Nature of Romance package deals through March 25th 2018.




JOSEPH, Husband of Mary
Christian Living - Lynne Chapman, Editor

This man was chosen to be the foster father of Jesus.




The Suwannee River
Florida - Georgiana Kurtz, Editor

The Suwannee River, made famous by Stephen Foster's song "Old Folks at Home," is a federally designated wild river. It is a beautiful river to paddle, particularly in its upper and middle sections, with many places available for overnight stops.




A Critical-Thinking Mindset
Distance Learning - Patricia Pedraza-Nafziger, Editor

No matter what level of education people achieve, chances are they have, or will eventually come across, the term "critical thinking." Critical thinking is a process in which an individual questions the reasoning behind a particular claim or decision.




The cold in Knoxville, Tennessee
Romantic Getaways - Marianne de Nazareth, Editor

The cold is not something I look forward to in Knoxville, but it's bearable unlike Omaha's minus wind chills.




Broadleaf Evergreens for Holiday Decorations
Landscaping - Connie Krochmal, Editor

Add a natural touch to your holiday decorating scheme with fresh greenery. A number of broadleaf evergreen plants are suitable for holiday decorations.


| Google+ |
E D I T O R R E C O M M E N D E D
The 500 World´s Greatest Golf Holes


This is a great coffee table book with photos and narrative describing some of the best golf holes in the world. Makes a great start for your bucket list of golf courses to visit. Published by Golf Magazine.
The Killer Angels by Michael Shaara


Best historical novel ever, and I don´t even like most historical novels. Epic and unforgettably intense! Among other things, reading this will teach you how to hook your readers through writing strong character emotion.
Life Extension Mega Green Tea Extract


Green Tea, or Camellia Sinensis, has been a hot news topic in recent years. Green tea is a main staple consumed by Asian populations for thousands of years and is purported to have numerous beneficial effects on health - one of them being weight loss.