Beauty & Self
Books & Music
Career
Computers
Education
Family
Food & Wine
Health & Fitness
Hobbies & Crafts
Home & Garden
Money
News & Politics
Relationships
Religion & Spirituality
Sports
Travel & Culture
TV & Movies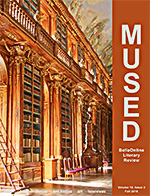 The autumn equinox, that balance point of light and dark, is closely tied to the moon. In China the Moon Festival happens around the autumn equinox, celebrating gratitude and the warmth of good friends and family. This year it was Sept 15th. Our last eclipse of 2016 was a penumbral lunar eclipse on Sept 16th. It fell in conjunction with the full harvest moon, also a symbol of thankfulness and appreciating those who care about you. The autumn equinox is a perfect time to add to those celebrations. It's a wonderful moment to treasure all we have and to share warmth with those who support us.

Autumn Equinox 2016 issue of Mused

Age No Longer the Best Mortality Predictor
Geriatrics - Patricia Villani, MPA, PhD, Editor

Up until now the 'medical model' has depended upon the usual checklist of older adult illnesses to predict health and mortality. An important new study shows how we need to change our thinking about what is necessary to live a longer life. Learn all about it here!




Laneige Water Sleeping Mask Review
Body Care - BB Lee, Editor

Laneige Water Sleeping Mask Review




The Dating Game Serial Killer
Crime - Vance R. Rowe, Editor

Rodney Alcala was a serial killer who once appeared on the Dating Game television show. He won the show but after the woman who picked him got to talk with him afterward, found him to be creepy and declined to go on the date. This had probably saved her life.




Dendrobium Farmeri - Farmer's Dendrobium
Orchids - Anu Dharmani, Editor

Dendrobium farmeri has beautiful and sometimes scented flowers. The stems, also called canes, is uniquely shaped.




Preparing Your Kitchen for Soaping
Soapmaking - Cindy Jones Lantier, Editor

How to prepare your kitchen for safe soap and/or cosmetic making




China Loves British Tea, How Ironic
Tea - Mary Caliendo, Editor

The influx of British tea consumption among the Chinese discussed.


| Google+ |
E D I T O R R E C O M M E N D E D
MS Window 7 Home Upgrade


The newest and best operating system from Microsoft - Windows 7. Install for yourself and have a new computing experience.
Ordinary People as Monks and Mystics


This non-denominational book is appropriate for any religious path, and helps you to explore your spirituality whether you are more of a mystic or more of a monk. Both approaches are valid.
Building School Success with ADD


Finally, there is help for kids with ADD who hate school. This small book is filled with practical tips to make school life better for students with ADD! Use this book to make a positive start this year. Building School Success with ADD can make a difference.