Beauty & Self
Books & Music
Career
Computers
Education
Family
Food & Wine
Health & Fitness
Hobbies & Crafts
Home & Garden
Money
News & Politics
Relationships
Religion & Spirituality
Sports
Travel & Culture
TV & Movies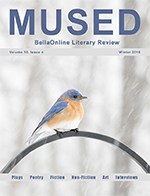 Sometimes it seems as if winter quotes make winter out to be a necessary evil which exists only for us to appreciate the subsequent warmth. Shelley: "If winter comes, can spring be far behind?" Shakespeare: "Now is the winter of our discontent made glorious summer by this sun of York." Hugo: "Laughter is the sun that drives winter from the human face."

But winter is far more than a down against which to compare the subsequent ups. Winter is a powerful, magical time. It is a season of strength. Of looking inward and finding focus. Bob Seger stated, "I write probably 80 percent of my stuff over the winter." Terri Guillemets reminds us, "The color of springtime is in the flowers; the color of winter is in the imagination." The Winter Solstice is a time to embrace the mysterious. The endless possibilities. The sense that we already have, within ourselves, boundless creativity and opportunity. We simply have to still ourselves and listen.

Winter is a powerful season. It gives us that space to look back and learn from our history. To look forward and envision what we wish to become. To be fully mindful of the present and be aware how each day has potential for us to speak out and impact the way our world proceeds. To move us toward peace, fulfillment, and an appreciation of what each of us has to offer.

Happy Winter Solstice.

Enjoy the Mused Winter Solstice 2016 Issue



Getting Things Done
Learning Disabilities - Celestine A. Gatley, Editor

Do you ever wonder why some people multitask and get all of their projects completed on time? It takes lots of skill and work to get it all done. Actually getting things done is possible for everybody.




Podcasting for Auditory Learners
Distance Learning - Patricia Pedraza-Nafziger, Editor

The component driving the popularity of Podcasts can be summed up in one word: convenience. Podcasts are increasingly popular due to ease of access to them via mobile devices such as smartphones and tablets.




Vinyasa Variations
Yoga - Korie Beth Brown, Editor

Take the time to practice the transitional movements of vinyasa! Think through the choices! Your spiritual and physical selves will thank you.




Playing with Ribbing
Knitting - Korie Beth Brown, Ph.D., Editor

Take the time to swatch different rib patterns, and use your new knowledge to personalize your next garment!




Food That Inspired Art and Creativity
Art Appreciation - Camille Gizzarelli, Editor

Leonardo da Vinciís notebooks contain a diary on health and cooking. The artists Henri Matisse and Paul Cezanne painted fruit as their subject matter. Iíll discuss art conceived with the theme of food - yum.




Brain Development Delays Cause ADD
Attention Deficit Disorder - Connie Mistler Davidson, Editor

A large new brain imaging study, published in The Lancet Psychiatry, builds on earlier, studies to remove the stigma from ADD. These MRI brain imaging studies show visible differences in the brains of people with ADD. ADD is not caused by poor parenting or kids who don't care about their behavior!


| Google+ |
E D I T O R R E C O M M E N D E D
The Killer Angels by Michael Shaara


Best historical novel ever, and I donīt even like most historical novels. Epic and unforgettably intense! Among other things, reading this will teach you how to hook your readers through writing strong character emotion.
Life Extension Mega Green Tea Extract


Green Tea, or Camellia Sinensis, has been a hot news topic in recent years. Green tea is a main staple consumed by Asian populations for thousands of years and is purported to have numerous beneficial effects on health - one of them being weight loss.
Grave Mercy


Grave Mercy by Robin LaFevers is set in medieval Brittany and features Ismae, a seventeen year-old peasant girl turned assassin who must pose as the mistress of principled knight Duvall in a secretive land of supernatural visions and imminent invasion by the hated French.